The Official Home Page of the National Federation of Wrestling
|
home


Shinobi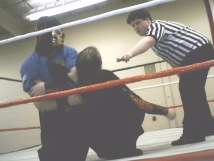 5'-10" 208 lbs
From: Takuhura Dojo in Osaka, Japan
Finisher: Snakebite
Music: Negasonic Teenage Warhead by Monster Magnet

Three Time Cruiserweight Champion
Former Tag Team Champion
NFW AWARDS:
2002 Ranking: 16th
2001 Ranking: 7th
2000 Ranking: 9th
2001 Runner Up: Tag Team of the Year
2001 Runner Up: Feud of the Year
2000 2nd Runner Up: Most Hated
2000 2nd Runner Up: Rookie of the Year
2000 2nd Runner Up: Feud of the Year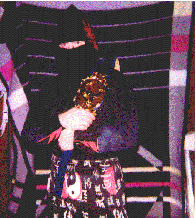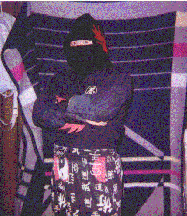 Shinobi was taken in by the Takuhura Dojo at a very young age and raised in the ways of the Ninjas. After over 20 years of training, he went on a quest for knowledge. His travels took him all over the world. He finally arrived in North America and heard of the world of pro-wrestling. After trying several leagues, he was approached by the NFW for the Heavyweight Title Tournament. Shinobi accepted but was destroyed in the first round by Tiny Tubbs. Shinobi was the NFW's first Cruiserweight Champion but, he then went on to lose his Cruiserweight Title to Amerikid in Exeland WI. Shinobi then went on a sabbatical from wrestling for several months. When he returned, he had forsaken his former rule breaking ways and quickly became a fan favorite, defeating Dan Armstrong in his return. Shinobi was on a roll as he also gained a victory over the veteran Tasty Travis Lee to earn a shot at the Cruiserweight Title. Outside interference cost him the match. Roux's Crew had come in and attacked El Supremo. Shinobi took a chair and defended El Supremo. The two then joined up to form a tag team. They set their sights on the tag titles and captured them in 2001, They held them for two months before falling to High Society. They regrouped and set their sights again on the straps.
El Supremo then lost a loser leaves the NFW match and the team dissolved. Shinobi disappeared from wrestling for a while then came back as a vicious rule breaker and formed a new clique called Underdogs Inc. He teamed up with other in the NFW that were being overlooked and managed to recapture the Cruiserweight Title for an unprecedented third time. What does the future hold for the man of mystery? Only time will tell...